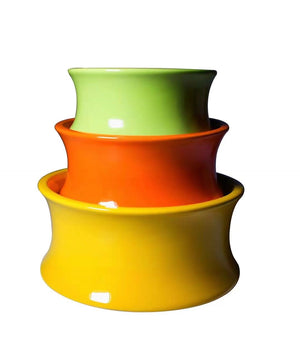 One for Pets
The Kurve Raised Ceramic Pet Bowl with Vibrant Colors Collection
Sale price Price $ 120.00 HK Regular price
Elevated design for Dogs and Cats comfort & safety of eating.
Handcrafted ceramic bodies, vibrant colors produced by 20 hours high kiln fire temperature at range 1,200 to 1,300 degrees Celsius.
Sturdy and heavy enough to avoid tipping or being pushed over.
Additional stoppers at the bottom to avoid scratching wooden floorings.
Stylish with functionality and a good fit with your home décor.
Dishwasher safe and easy to clean.
Additional drain holes at the bottom for releasing trapped water during washing.
Non-toxic and are made with the compliance of Australian tableware standards requirement (AS 4371-2012).
Lab tests were performed by SGS International.
     Three Sizes :
Small : 6″ diameter x 2 3/4" tall (13oz / 385cc)
Medium : 7″ diameter x 3 1/5" tall (26oz / 770cc) 
Large : 8 1/2″ diameter x 4" tall (48oz / 1420cc) 

      Three Colors: Egg Yolk, Clementine, Avocado